I am working on the setting for the Asset to CI import and there are some things which don't make sense.  Is there a best practices document?
These are my questions so far:
When the import is done, is the CI Type set to Asset?
Why is Asset field "Disabled" not available?  How will I know in the CI that an asset is disabled?  Do I now need to manually update the item in both the Asset and CI lists? Ideally, Disabled would match with the CI Status field.
Where does the Asset Type field go?  I would like Asset Type = CI Sub Type field, but CI Type and CI Sub Type are not options in the field selections drop down.
And for more esoteric questions:
Why is there not a filter on the import?  I would like to pick the type of asset to import. Servers = yes. Laptops = no.
Why does the Model field type not match in Asset and CI (text and integer respectively)?
Below is how I've set the import screen so far.  The highlighted fields are the ones I'm questioning. (I have to add a couple of custom fields still, and make the names of others match so it is clear where data is coming from/going to.)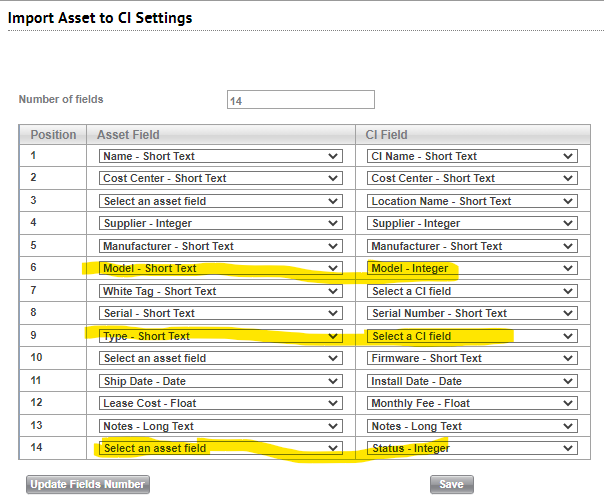 I appreciate any guidance that anyone can offer.
Thanks,
Heidi