Hi SysMates, 
This version is packed full of crowd pleasers for admins and end-user alike. Let's dive in: 
Measure your end-users' satisfaction by adding a survey to your AI Service Desk
Admins can measure their end-users' satisfaction by collecting feedback after creating/closing a ticket in Microsoft Teams.
Minimize "hassle" for end users, by providing the survey in Teams rather than sending an email

Achieve a higher percentage of responses

Gain insights in real time to improve your service delivery
For set up go to: 
Settings > Customize > Notifications > Choose notification
Insert a survey in the body of the dedicated notifications (#1002 MS Teams SR Created or #1005 MS Teams SR Changed). Learn more about the Survey set up.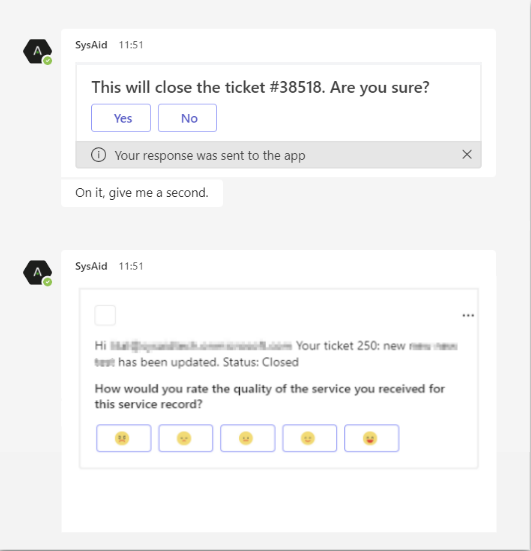 When you need context, you can find the ticket notes in AI Service Desk
End users can save the time by using the notes history option in the SysAid bot interface rather than scrolling through their ticket history in their mailbox.
Improved and easier communication between the Admin and end-user as each action taken is easily found within the interface

Every note included in a ticket is visible within the ticket summary - Full Notes History
To enable it for your AI Service Desk as well as for your SSP go to: 
Settings > Self-Service Portal > Self-Service Portal Settings > Advanced Settings > Add/Remove fields > Add the Notes field
Learn more about Notes functionality here.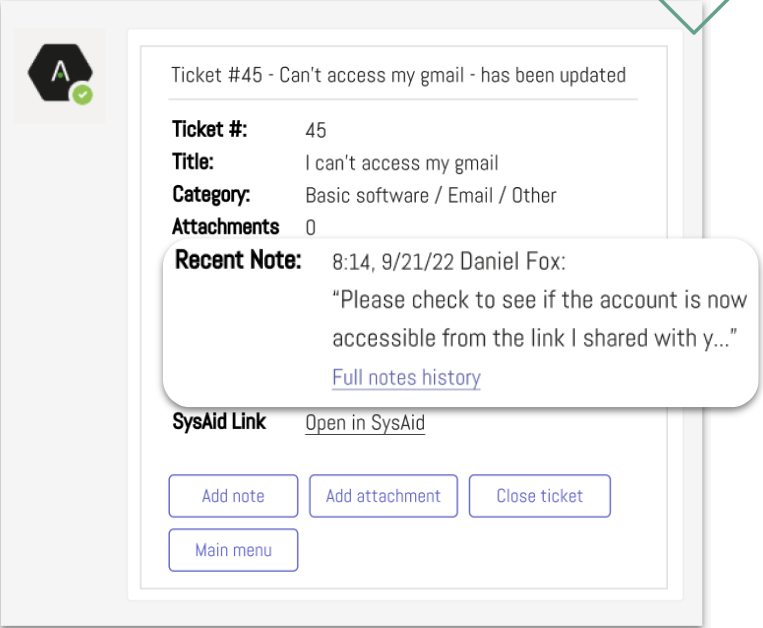 Seamless configuration for MAC & Linux on SysAid Agents
Our Agent settings now also apply to MAC and Linux assets! 
Publish the desired Agent Settings Policy to your RDS of choice and all your MAC and Linux assets will be seamlessly configured. This is done via the new Configuration tab on your RDS server. 
There's no need to manually update each asset.
Learn more about the new Configuration tab and how to add a new asset policy.
Three excellent new features right? and that's not all as we address some more items: 
 #24283 - Fixed Filter in Service Quality by Timer Dashboard Chart 
Fixed a bug that prevented using the Custom Filter field in the Dashboard Chart called Service Quality by Timer.
#23854 - Updated the disable remote control in the Agent Settings functionality
In the Agent Settings Policy, when disabling the checkbox for Enable Remote Control it will not only disable the functionality, it will also refrain from installing it on connected Windows assets. 
For more advanced remote control capabilities and experience check out our TeamViewer embedded service. 
No Version is complete without security enhancements!
#24019 - Tightened security against potential XSS attacks in the Password Services Module.
#23743 - Tightened security against potential XSS attacks around SAML responses from a variety of add-ons, such as Office 365 SSO. 
 
What is all this you ask? Version 23.1.20, gradual rollout: January 22-29, 2023
So… what feature in this version is your favorite?? 
Tell me in the comments!
PS - Want to get notified when new product updates are out? Hit subscribe and you are good!