Hi SysMates,
A new cloud release is here and I am liking what I see (hint analytics is my fave):
New Chart Type for Dashboard: Action Items Overview  
New chart type added to the out-of-the-box list of charts, available in the Advanced Reporting section in Settings called Action Items Overview. Helping admins keep track of their workflow tasks.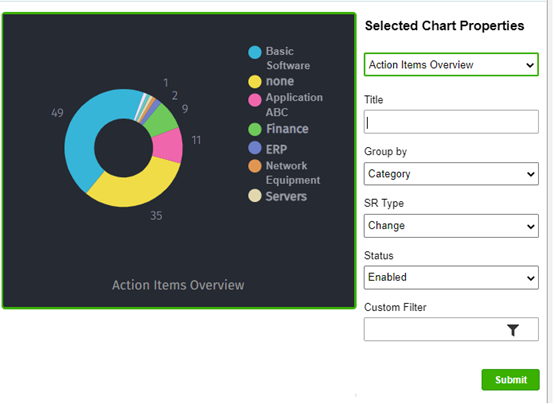 By the way a few more new charts will be coming soon so stay tuned!
Service Record Actions List View Improved
Added a new view to the Service Records Actions list called Dashboard, which directly correlates with the new chart type Action Items Overview. 
In the table display, three new columns are included: 
Service Record Type
Category
Sub Category (Optional)
Same as the fields in the Action Items Overview chart.

Are You the Next SysAid ABots Pathfinder?
Don't miss out on this opportunity to be one of the first to enjoy more automation. 
ABots are simple plug-n-play bots that automate the most common manual and repetitive IT admin tasks.
Our first 3 ABots support your most common user repository tasks, for example: new employee onboarding, role changes, permissions management for temp workers or visitors, and offboarding. See more and sign up: 

We also fixed bugs related to our Third-Party Integrations with Azure and Jira 
 
And let us know what you think, in the comments!
Cheers,
Maayan
PS - Want to get notified when new product updates are out? Hit subscribe and you are good!